As with tv-series and books, I watch so many movies that I find myself forgetting what a given movie was about, whether I liked it or not, and even whether I have already watched it. So I have made this page to keep track of the movies I watch - good and bad. Maybe you will also discover some good movies here too, or learn what to avoid, assuming you have similar tastes to me.
showing

10

of

46

total movies
no movies found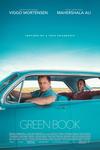 Green Book (2019)
Eye opening
(this review contains spoilers)
Don Shirly, a virtuoso pianist (previously known to me as Remy from House of Cards) tours the deep south during the Jim Crow era with Tony Lip, a hard-bitten Italian bouncer turned valet (Aragorn from Lord of the Rings). The main theme is racism and we see dozens of examples ranging from police enforcing curfew laws to a concert hall proprietor who refuses to let the star of the performance eat in his white-only restaurant. These scenes obviously make for a movie which is very uncomfortable in parts, however this is contrasted with Tony's gradual shedding of his racism as they progress on the road. I found it quite a thought provoking movie - shining light on an era with which I am only vaguely familiar.